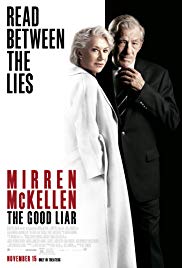 The Good Liar
109 Minutes

Thurs,Fri,Mon,Tue,Wed 10.30am,12.30pm,6.45pm,8.45pm.
Sat,Sun 1.00pm,3.00pm,6.45pm,8.45pm.

Career con artist Roy Courtnay can hardly believe his luck when he meets well-to-do widow Betty McLeish online. As Betty opens her home and life to him, Roy is surprised to find himself caring about her, turning what should be a cut-and-dry swindle into the most treacherous tightrope walk of his life. Starring: Helen Mirren, Ian McKellen, Jóhannes Haukur Jóhannesson, Jim Carter. Director: Bill Condon.