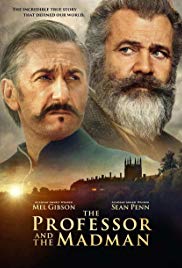 The Professor and the Madman
124 Minutes

Thurs,Fri,Mon,Tue,Wed 10.30am,12.45pm,6.45pm,8.40pm.
Sat,Sun 1.00pm,3.15pm,6.45pm,8.40pm.

Professor James Murray starts compiling words for the first Oxford English Dictionary in the mid 19th century, and receives over 10,000 entries from a patient at Broadmoor Criminal Lunatic Asylum, Dr. William Minor. Starring: Mel Gibson, Sean Penn, Eddie Marsan, Natalie Dormer, Steve Coogan. Director: Farhad Safinia.